9 Fresh Ideas In Retail Merchandising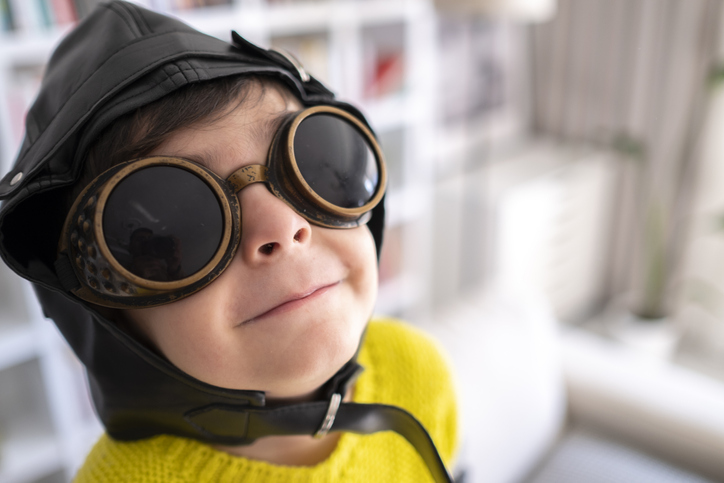 Retail merchandising is how you attract customers away from mindlessly strolling by your store, driving past in their cars, or keeping their eyes on their smartphones when they walk into your store. 
At its heart, visual merchandising snaps our attention to something that either doesn't fit or stands out. 
What we're talking about here is disrupting the brain. 
And why is disrupting the brain necessary?
We have all come to depend on technology. Our eyes are glued to our screens all day, then again in the evenings while we catch up with friends and family. 
It has made our thoughts predictable. Enter your store displays…
Go deeper with my primer on visual merchandising here
The best displays have an air of mystery about them – about how items are arranged, who they are for, even how they are made that is far more intriguing than placards boasting 50% off.
Ideally, your viewer will obtain a sense of possibility in what you choose to carefully put together and immediately say to themselves, "Yes, that's what I need," or "What IS that?" Either way you did the job of grabbing someone's attention. 
We have a whole course in SalesRX to help you with merchandising so I thought I'd share examples to get your creativity flowing.
9 Fresh Ideas For Retail Merchandising
1. Go monochrome
While Tiffany's has done this since their start – even with a patent on their Pantone color no less, we're seeing more and more yellow monochrome merchandising especially in luxury retailers like this Louis Vuitton location in SoHo. The bright color draws the eye inward due to its warmth and association with fun.  You can use most any color as monochrome focus but yellow represents hope…and we can all use more hope right now.
Yes, yellow is hot right now…
2. Play a game.
Remember that old game of one thing is not like the other? Your brain loves games and the more it is quickly challenged to find what is the same and what is not, the more you can make passing feet stop outside your door. like this shop in Paris.
3. Mannequins can be found for anything
Full-scale mannequins originated in the 18th century. Made from wicker or wirework, they were used to give more lifelike appearance to clothes. Nowadays you can find a variety of shapes and uses including these used to display luxury dog wear. 
4. Consignment doesn't mean boring
Recycle, upcycle, and reuse are the catch words of Gen Z and consignment and resale stores are in demand. What I appreciated about the shop below was that they applied what I found in Nordstrom's many years ago…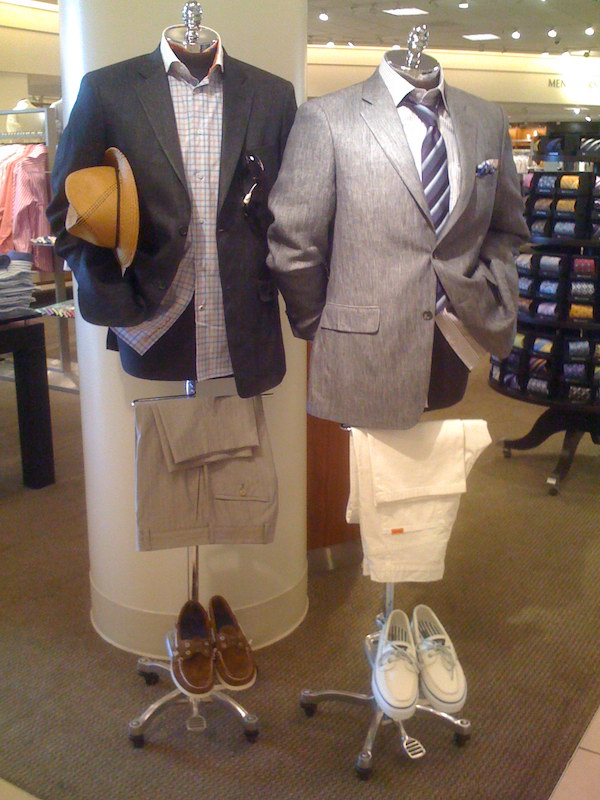 …to their consignment store, which allows the merchandise to be seen for its potential rather than jammed together on a circular rack. 
5. Flat displays save space yet still can be showing it all
Who hasn't struggled with finding space to display a complete picture? We all have. That's why this ingenious flat display from the UK stands out. What is the theme? Time to clean. Brilliant and the peg board makes it super simple without looking cheap or second-rate.
6. White is a color
So many retailers think more color added, the better. But they often forget white is a color as well. There is so much you can do with white and one or two complimentary neutrals to show Spring in particular. Cashmere Goose in Hampshire, UK shows how to do it beautifully.
7. Mannequins in action
Running stores have had full-motion robots in urban centers for a while now, but you don't need motion to convey yoga. In fact, you want just the opposite. Notice how the three colors of burnt orange, lavender, and black unify the space set in the middle of the Antara, Mexico Nike store shared by visual merchandiser Michelle Coria. The white surfaces further calm the space and the namaste of the tallest form doing tree pose shows yoga practitioners – This is for you. 
8. Draw the eye through the store
So many boutiques – especially newer spaces – are long and narrow which makes them like looking down a grocery aisle. Unless you grab shoppers' eyes, visitors are not compelled to go further. That's why this simple visual trick used by Daisuke Yanese of placing large scarves across the ceiling works so well in this store in Japan. Also notice it works because the walls, flooring, and ceiling are so light. Don't try this with patterned flooring. 
9. One thing is not like the other
How to get someone's attention about a product launch that might be too small to work in a window? Hermes built a box and added a colorful jungle of colors around the partnership with Apple. I also love how they used wide-eyed owls to reinforce "look here." You could do that for most any display as well.
What not to do when using visual merchandising in your store?
Merchandising mistake example #1: Just put it somewhere
This is one of the most common mistakes in merchandising, which is to dump all of one product together. Nothing stands out. Upon further inspection you can realize it is a knit cap but imagine how much more impact this would have had on another fixture or as part of a color story on a wall. 
Visual merchandising mistake #2: thinking more color is better
Indira Shafikova shares this post from Russia. The consumer's mind is overloaded with color, shape, and noise. This results in shoppers trying to look "through" all the merchandise, than look "at" it. 
Oh and don't be afraid to mix and match as this designer did for a Saks window recently with monochrome used to highlight the red jacket – you have to click through to see it on #5.
In Sum
Retail merchandising is a great job for expressive personalities to bring life to lifeless products.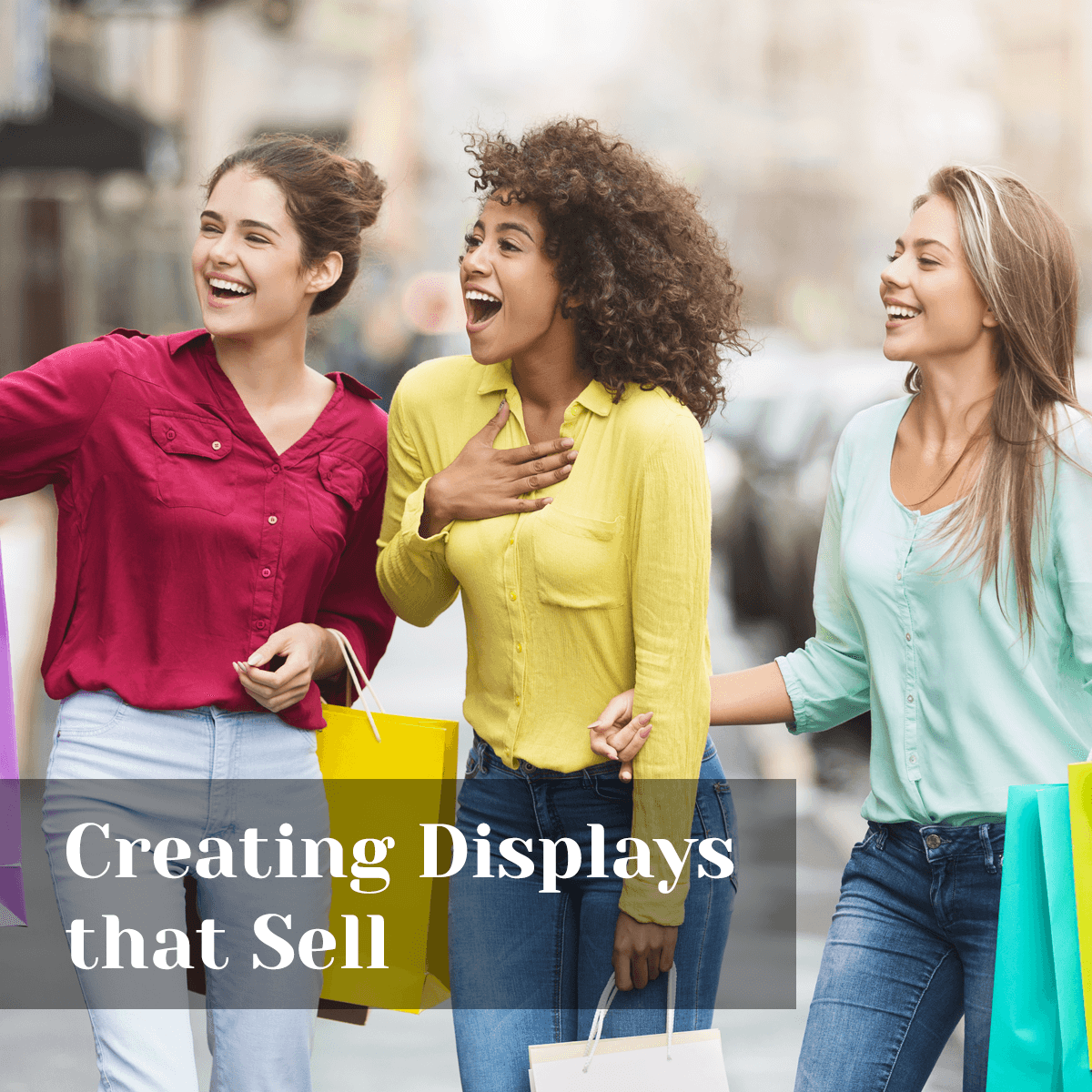 But just because they are creative doesn't mean anything goes.
As you can see from these visual merchandising examples, the job is for the merchandise to standout and make the shopper consider something they had not previously.
I have a lot of my tips and tricks on how to create windows and displays that sell in the SalesRX online training system course Creating Displays that Sell which is included at no extra fee.