How Greenhouse Juice Made Agile Shifts to Meet New Demands During COVID-19
The COVID-19 pandemic brought an unprecedented amount of challenges and obstacles throughout the 2020 calendar, forcing many companies to re-examine how they work and operate from the top-down. For many CPG brands and their field teams this, unfortunately, meant reducing headcount, following strict protocols and guidelines, and embracing uncertainty in a time of tumultuous change.
After spending time with a few Repsly customers, we heard some incredible insights on how brands and their field teams can make smart, agile decisions to stay resilient through even the most trying times. This series is aimed to highlight the resiliency of those teams, honing in on the pivotal strategies, tactics, and tests they were forced to explore because of COVID, and have since happily benefited from and become mainstays in their ongoing operations.
For example, the team at Novamex found that despite disruptions to their workflow they were able to re-train their team with new focuses on communication and data to keep everyone aligned on the work that was most critical to their success. Read more
Like Novamex, the team at Greenhouse Juice Co. was also equipped to respond quickly as the pandemic forced their priorities in the field to change. Using their retail execution platform to communicate, execute, and track new programs in the field, Greenhouse successfully executed a major planogram realignment to meet changing consumer behaviors, and deployed new safety measures, and team-building exercises — all in a year that might otherwise have slowed their productivity.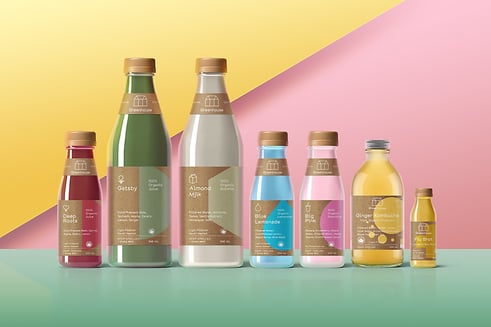 Since 2014, this Toronto-based company has made a name for itself offering widespread, sustainable plant-based beverages that provide nutrition and wellness of the highest quality. Today, Greenhouse has six plant-based beverage categories, ten shops, a state-of-the-art organic and kosher-certified plant, and can be found in its signature glass bottles in grocery stores across Canada.
Repsly was fortunate enough to sit down with Greenhouse's field merchandising manager, Kate Teeter, to discuss the pivotal strategies and decisions their field team made this past year in response to the pandemic. Kate has been with Greenhouse since 2016, spending the first few years merchandising their retail stores; as the brand expanded nationally, her focus shifted over into grocery, managing the health of the shelf in grocery partners nationally, as well as training and managing their national field team, and ownership of the audit process.
Innovating to Serve "Stock-Up" Missions
Kate explained that for Greenhouse, this past year was difficult with many unforeseen challenges, but one of the biggest things they saw was the drastic changes in consumer shopping patterns. "We were seeing a reduced frequency of trips to the grocery store, bigger basket sizes from consumers, more multipack purchases, an increase in home consumption items, and we also noticed a significant increase in customers looking for immunity-boosting solutions," Kate said.
What did Greenhouse do to capitalize on those consumer behavior changes?
Kate Teeter: Since Greenhouse is a vertically integrated company, we were able to pivot our innovation in the back half of the year to focus on filling the multipack consumer needs. We launched a new booster four-pack (including our top-selling Fiery Ginger), 1L Kombucha, and expanded our offering in the booster category with two new SKUs: Pick Me Up and Lullaby, which have been really successful for our sales.
In prior years we suspected there was a need for the multipack, but the reduction in shopping trips only confirmed this, and it was apparent that we needed to speed up the innovation on that especially as shoppers began stocking up on SKUs this past year.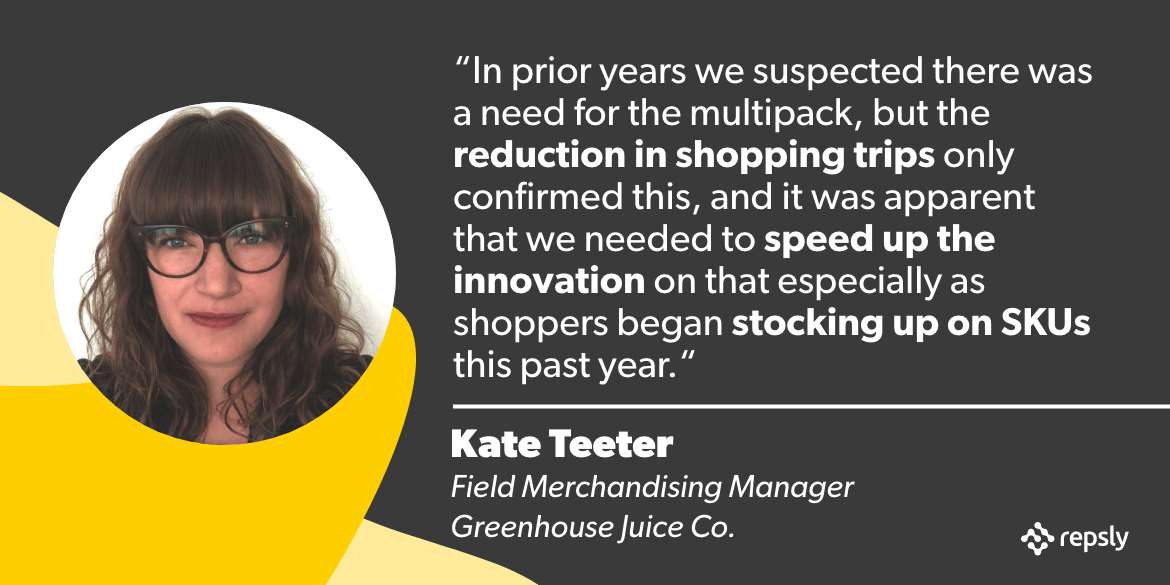 What role did your retail execution platform play in enabling those changes?
KT: Repsly continues to play a critical role in how we get and receive feedback from the field team. Our field team uses the notes section to give additional context of their store visits and conversations with Store Managers. We've also been able to leverage Repsly to track visibility on what our competitors are coming out with.
Deploying Safety Surveys to the Field
With health and safety being top of mind all over the company, especially out in the field, Greenhouse created a COVID safety survey for their reps in the field. "We wanted to make sure that they have PPE and we put protocols into place, and we do have a form on the Repsly app that they check their symptoms each day before going out into the field just to make sure that nobody is going out into the field with potential symptoms," Kate said.
"We're fully transparent throughout the company to ensure that nobody from our team is going out into the field or into our production facility with COVID symptoms. Since the field team lives on Repsly all day, it seemed like a natural fit for the COVID form to live on the app."
What other changes did you make that proved internal successes?
KT: We also re-framed our store visit surveys early in COVID to pivot to a contactless visit due to restrictions in different regions across the country. We may not be able to actually touch the shelves, stock the product, or check for rotation, but we wanted to make sure that we could still get that data that's so important to us. 
We made decisions to change the wording of questions, updating them to ensure we could have a successful contactless visit. They can still go into those stores and build those relationships with managers from six feet away.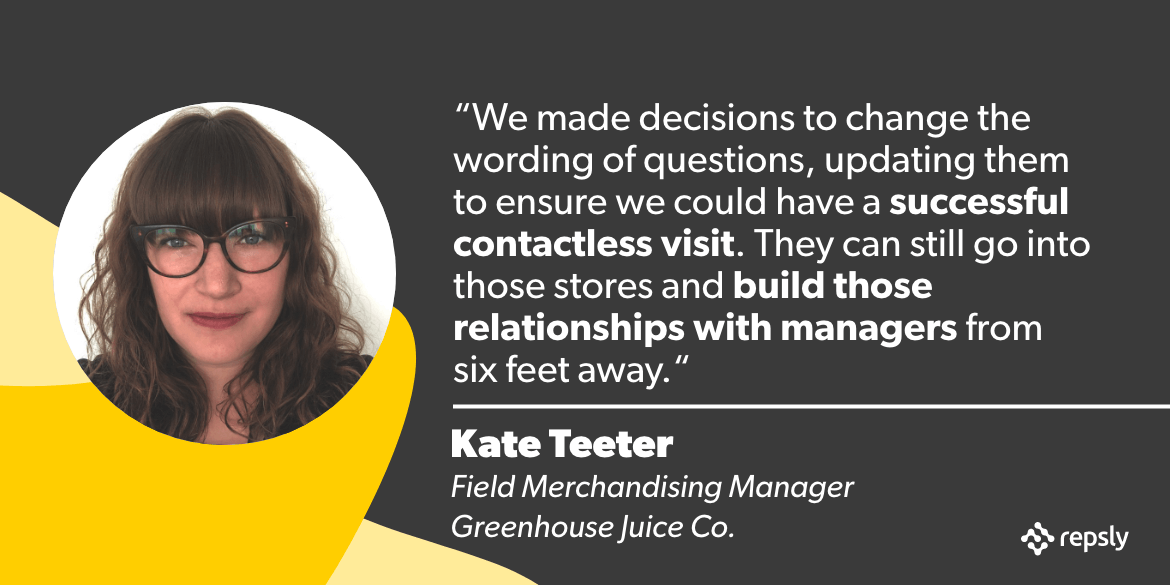 Decreasing Out of Stocks During a Planogram Realign
What changes did you make to that proved external successes?
KT: We had a planogram realign with one of our key partners that proved to be a really big win. Typically, we see higher out-of-stock rates at the beginning of planogram realignments, but we were able to decrease our out-of-stock rates by 37 percent and keep them consistently below target.
We also recently took on the merchandising of another like-minded Canadian brand from Montreal called Mid-Day Squares. Despite all of the challenges our field team faced in 2020, we were still able to execute a best-in-class healthy shelf across the market. And that garnered some attention from other brands, so we've taken on their merchandising as of late January 2021. It was really great to be able to have another brand recognize the impact our field team has on the shelf. And now they can use the data that our field team is collecting to grow their brand as well.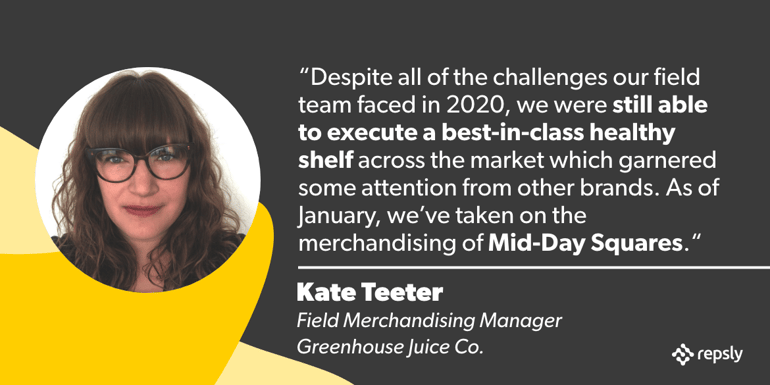 Greenhouse Juice has been close with Mid-Day Squares for quite some time. They're through the same distributor, share like-minded consumers, and as a refrigerated bar, they actually sit near each other in the store. A lot of times when I would scroll through the Repsly photos, I would see Mid-Day Squares in the fridge on the same shelf anyway, so it truly felt like an organic partnership.
Empowering Reps to Collaborate Every Day
Greenhouse is also focused on prioritizing engagement and team culture this year. "We don't just use Repsly for the data component, but also as an engagement tool, giving the team visibility into the other reps to entice some friendly competition or to humble brag about their placements, and ultimately, to support each other and share ideas," Kate said. "It's something that we're really pushing for this year. The team's been great at using it in the past, but we're making that an even bigger focus in 2021."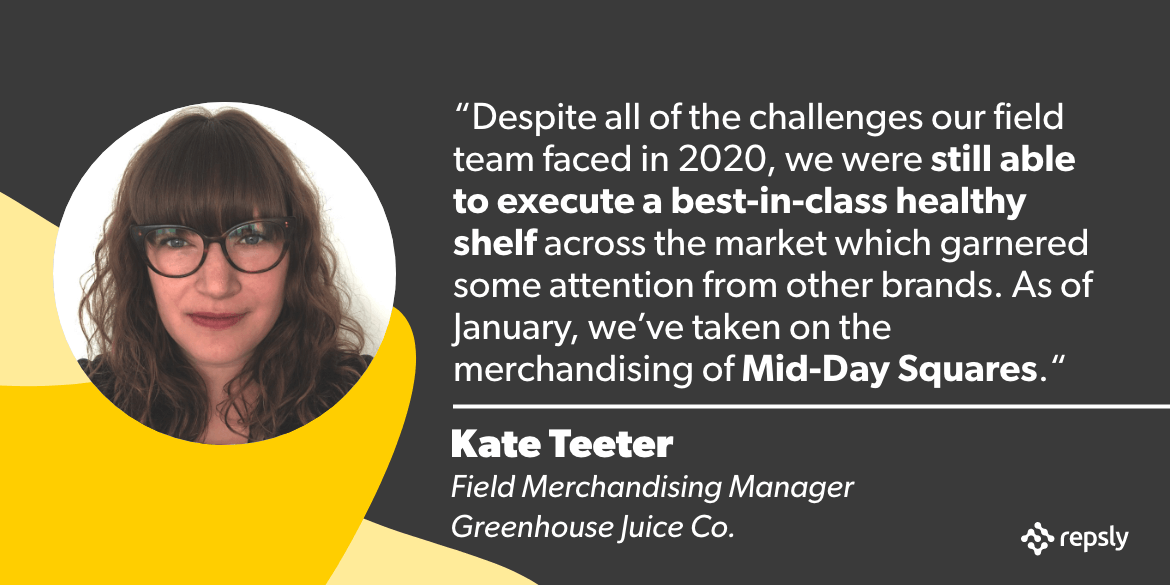 Could you share more about how Greenhouse uses Repsly for friendly competitions?

KT: All the reps are able to see each other's stores, so especially when they're in the same region and have similar banners, they're able to see that a fellow rep has a zero percent out of stock rate in Loblaws, and they personally may have a higher rate and need support.  The reps can exchange ideas about what they're talking to managers about by reviewing each other's notes, commenting back and forth on posts, or by using the group chat function on the app, which we've created for each region, as well as one for the entire team.
For example, when someone wins a great secondary placement, we'd comment, "This is so bold, this is great." We're constantly using Repsly to highlight wins and share best practices creatively.
---
Interested in hearing more strategic changes field teams took this past year that greatly benefited their business Join us on Wednesday, March 24th at 1 p.m. ET for an inside look at the resilient and innovative changes Market Recon made in the field during COVID-19 that you can apply to your brand today.