How the Field Team at Novamex Stayed Resilient Through COVID-19
The COVID-19 pandemic brought an unprecedented amount of challenges and obstacles throughout the 2020 calendar year, forcing many companies to re-examine how they work and operate from the top-down. For many CPG brands and their field teams this, unfortunately, meant reducing headcount, following strict protocols and guidelines, and embracing uncertainty in a time of tumultuous change.
After spending time with a few Repsly customers, we heard some incredible insights on how brands and their field teams can make smart, agile decisions to stay resilient through even the most trying times. This series is aimed to highlight the amazing resiliency of those teams, honing in on the pivotal strategies, tactics, and tests they were forced to explore because of COVID, and have since happily benefited from and become mainstays in their ongoing operations.
For example, the team at Novamex found that despite disruptions to their workflow they were able to re-train their team with new focuses on communication and data to keep everyone aligned on the work that was most critical to their success.

Founded in 1986, and a proud Repsly customer since 2016, Novamex is a manufacturer and distributor headquartered out of El Paso, Texas, that provides services for over 160 SKUs in the U.S. and worldwide. After starting with only two products, Novamex has grown into one of the top Hispanic product exporters in the United States with category-leading drinks and food products including exclusive rights to the distribution of Jarritos, Sangría Señorial, Sidral Mundet, Mineragua, Chocolate Ibarra, and D'Gari among others. 
Novamex's brands are broken down into three branches: drinks, groceries, and Nova Naturals. In addition, the company is involved in every aspect of their sale, distribution, and marketing to Hispanics in the U.S., and has compounded an annual growth rate of 29 percent since 1990.
We recently spoke with Fernando Yamamoto, a Field Sales Support at Novamex since 2016, who spends his time divided between products in all three of Novamex's branches. Fernando works intimately with marketing to optimize execution, KPIs, secondary displays, schedule routing, marketing promotions, and setting up training for mobile and back-office users.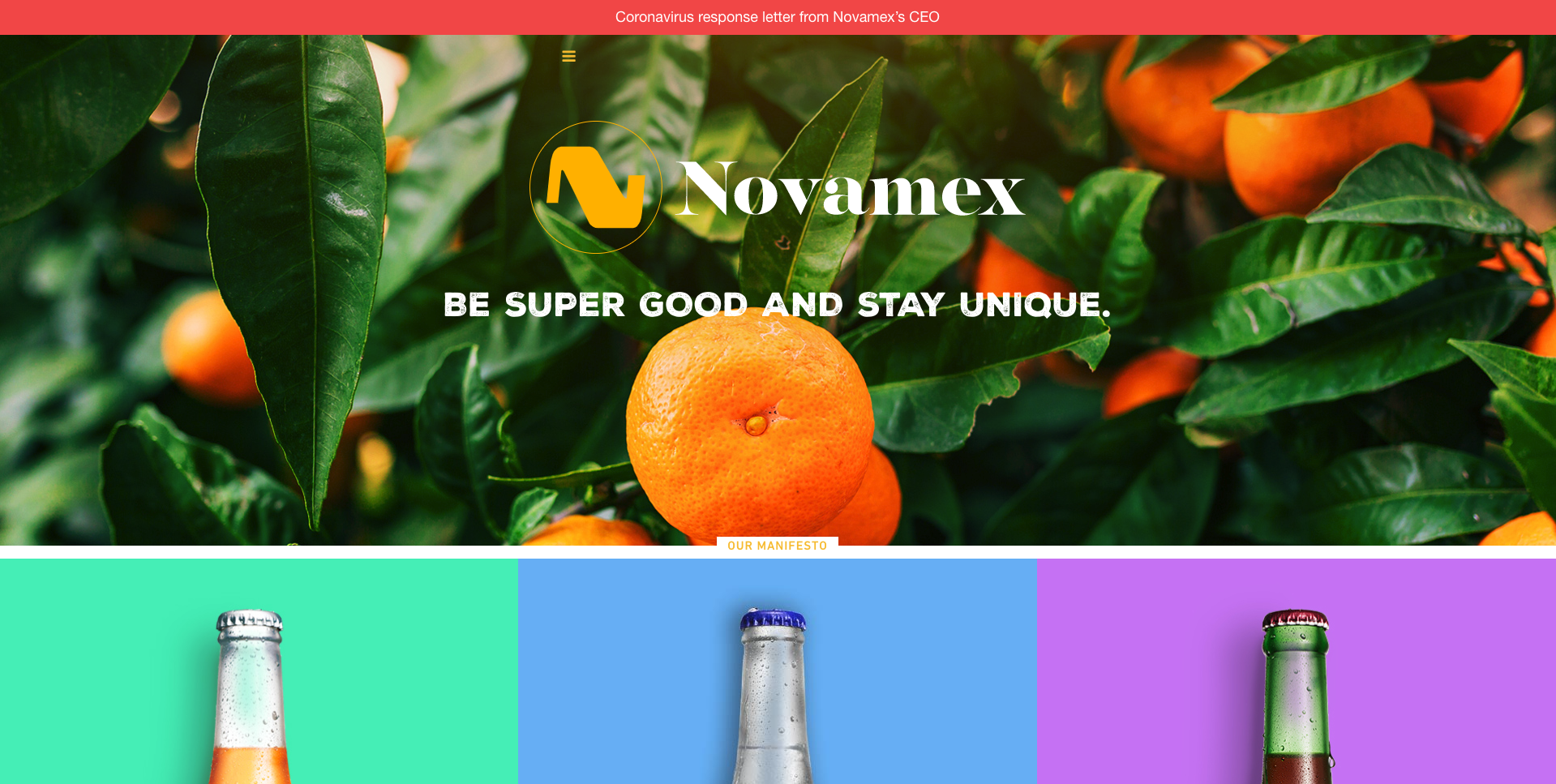 Enabling a Team of Power-Users
When the pandemic began, many field teams around the world were forced to turn to technology in order to stay connected, and more importantly, on schedule. Fortunately, that transition came much more naturally for Novamex, as the entire organization had already been connected and enabled through their retail execution platform.
As you reflect on this past year, what were the major challenges Novamex faced?
Fernando Yamamoto: At first when all the pandemic started it was very unknown what was going to happen, but we've been lucky that a lot of people did not stop consuming our products. A lot of our brands were able to achieve their goals last year. I will say, it was actually a good year for the company in regards to that. 
As I reflect on the year, I think we were ready for the pandemic because while some people go to the office every day, the reps just continued doing their thing in the streets. For our field team, it was no major change because we had Repsly. It became a great tool for the leaders to continue communicating with their teams and seeing their execution.
This past year was obviously a challenge, but at the same time, it was such a great thing that we'd already been working with Repsly for quite a long time.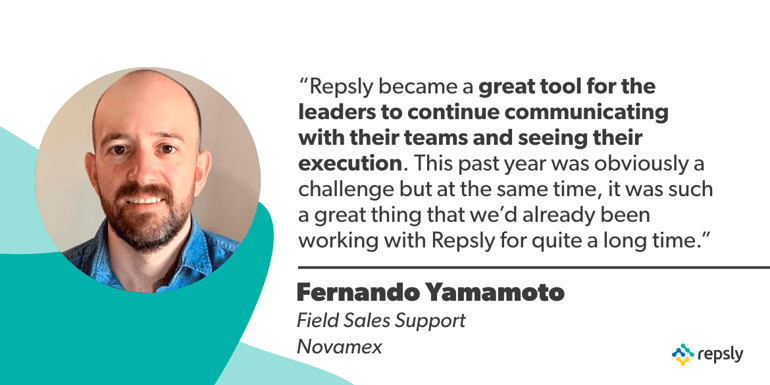 Was your field team forced to make any changes to their day-to-day?
FY: Honestly, not really. As a field team, we were ready. It was an easy transition for them because their day-to-day was not impacted. They already knew how to use Repsly from training in prior years so when Repsly became our primary line of communication, our reps were prepared.
What role did data play in the way your field teams worked this past year?
FY: Data plays a huge role in how our field team works every year. It's definitely a game-changer. As a company, we're constantly trying to take advantage of technology and data with everything we do. I've been with Novamex for five years and before Repsly we had no retail execution platform. The extent of our data was tracking the speed of reps through GPS to make sure they weren't speeding. Now we use data to actually propel the business forward and help our reps do their job. Data helps our communications, to optimize execution, track gaps and improvements, and also to follow up on our marketing promotions.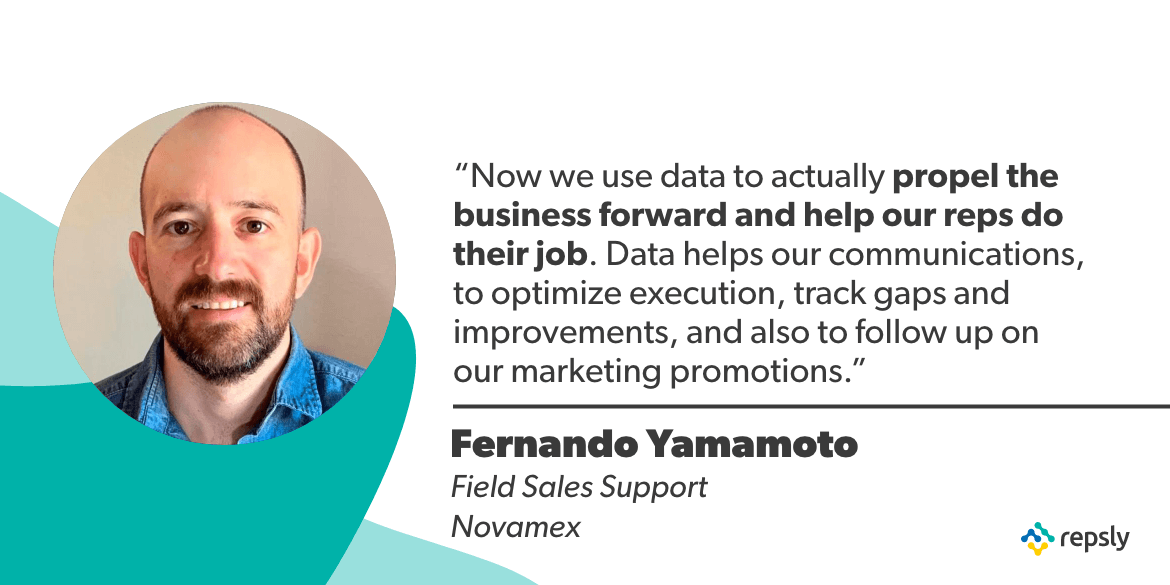 What piece of advice would you offer to another brand as you reflect on everything Novamex has experienced and learned through the pandemic?
FY: Lean into your technology, whether your retail execution platform is Repsly or not, it's important to take the time to stop, retrain, and re-enable everyone in your organization – not just your field users – how to use the tools you have to their full capacity and potential.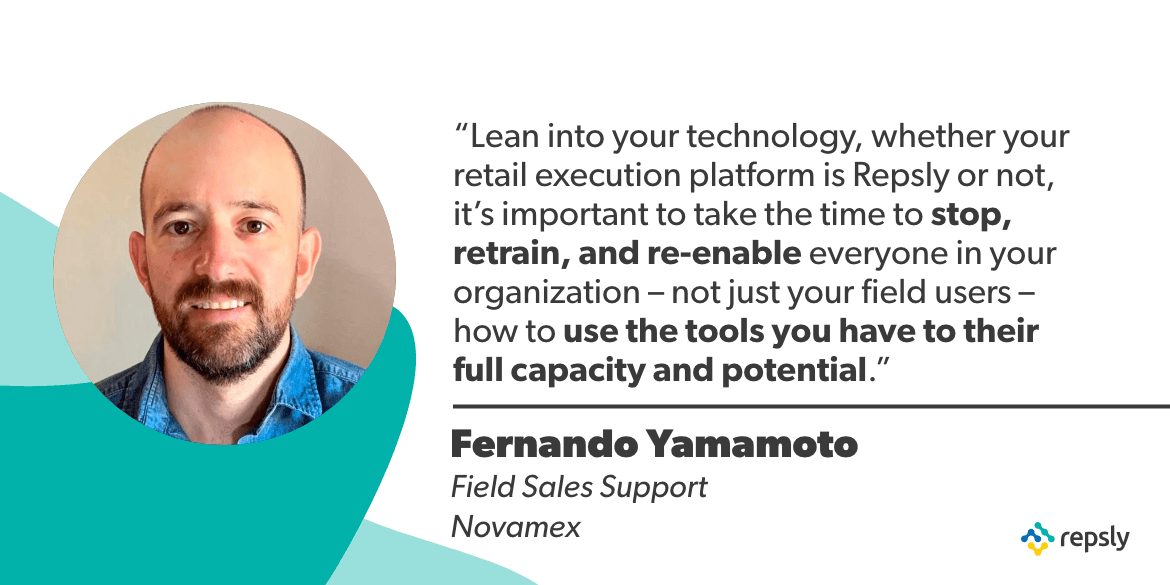 We spent a lot of time training our leaders and managers on how to use Repsly so they didn't have to come to us for every report they were interested in reviewing. It's always worth taking the time to enable your organization to use your tech stack to its fullest extent. The pandemic forced us to do it, but fortunately, we had Repsly. We really couldn't do it without Repsly.
---
Interested in hearing more strategic changes field teams took this past year that greatly benefited their business Join us on Wednesday, March 24th at 1 p.m. ET for an inside look at the resilient and innovative changes Market Recon made in the field during COVID-19 that you can apply to your brand today.