What Keeps You Up at Night? 5 CPG Experts Weigh In
2021 is shaping up to be filled with opportunities and obstacles for CPG businesses and their field teams. COVID-19 cases continue to rise, vaccination campaigns are slower than anticipated, and continued economic uncertainty looms large; but most brands are optimistic they can get back on track in the year ahead. What are the opportunities awaiting in the year ahead? And what issues are keeping industry experts up at night? We asked some of the industry's most innovative and influential leaders to weigh in on the trends and challenges that will shape 2021.
The leading minds agree: relationships and technology will be key for businesses to succeed. In the coming year, brands will be focusing their attention on delivering on safety and trust by being there for their customers. They will be thinking about how they can deliver hyper-personalized promotions with the hopes of winning back loyal customers. And field teams will explore new team strategies to combat the demanding and unpredictable changes in consumer purchasing behaviors. In a time of tumult and possibility, the brands that lean into change will be best prepared to thrive. 
What should get your attention and what really matters? Here's what these leaders had to say.
---
What current industry issue in retail execution that keeps you up at night? 
How do we continue to provide delicious, better-for-you options while recognizing overall shopping trips are down and basket-size is up? I'd contend that evolving and reacting to the many changes in consumer needs that were presented by COVID-19 are the keys to success in retail in 2021 and into the future.
How can brands plan to solve that problem in 2021? 
Thinking as a consumer, and not just a brand can help us all relate to and deliver value to the demands and needs of our customers. Providing multi-packs, intermittent TPR's with deep discounts that allow customers to stock up, ensuring in-stocks as much as possible in partnership with retailers, and great communication with folks connecting with your brand on social are all great ways to keep your ear to the ground and continue to be of great value to your distributor partners, your retail partners and, most importantly, to your end-consumer that counts on you to help feed their families.
---
Lauren Abda, Co-founder at Branch Venture Group, Founder at Branchfood

What current industry issue in retail execution that keeps you up at night? 
At Branch Venture Group we evaluate emerging food brands for investment and have been very close to COVID's impact on early-stage companies, particularly the inability to do in-store sampling. Sampling is crucial for driving brand awareness, connecting with consumers, and purchasing. New brands just don't sell off the shelf. There needs to be a reason to buy, or try, and oftentimes that first point of connection comes through field teams and brand ambassadors getting consumers to try the product. 
How can brands plan to solve that problem in 2021?
During COVID, brands couldn't do in-store sampling and had to get creative teaming up with social media influencers for giveaways, offering free samples paired with other online purchases, and creating unique content to familiarize their target customers with the product. As a result, brands were able to gain a unique and somewhat greater understanding of who their customers are and refine for better product-market fit. Brands have a real opportunity to leverage 2020 learnings to build products that aren't just differentiated from competitors but are differentiated for their target customers.
---
What current industry issue in retail execution that keeps you up at night? 
Brands should understand that retail execution isn't just about getting on the shelf – it's about staying on the shelf. Now more than ever CPG brands see the need to get into stores to provide visibility, and context behind sales data, and see first-hand what's going on in each account.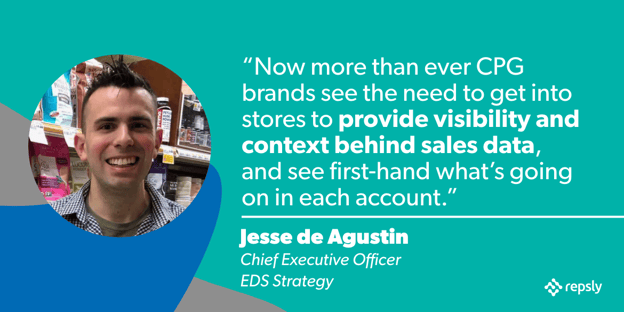 How can brands plan to solve that problem in 2021?
Brands can solve this with field merchandising visits and in-store demo programs. The most obsessed and driven brands are not simply analyzing distributor pulls and movement data all day. That's the past. They get ahead of other brands in the category, take a proactive approach by sending field reps to visit stores – which is where the action is – to make sure the brand is fully stocked and in the best possible light.
---
What current industry issue in retail execution that keeps you up at night? 
Consumers today are eating more at home. As demand increases at retail, promotional sale surges, and a spotlight on new innovation, there's always a concern for in-stocks levels to manage the supply chain and gain increased basket sales. While historical data is a helpful tool, there has been a change in shopping behaviors in the last 12 months where suppliers have had to rely more on crystal balls and access to real-time data reports that may be available.
How can brands plan to solve that problem in 2021?
Having more eyes on the business at the store level is incredibly helpful to support retailers and suppliers to make any needed shift or optimization. Store coverage provides helpful insights and an added level of confidence that food products are best represented with additional services including secondary placements, best of class merchandising, schematic continuity, up-to-date tags, and product rotation. It's always gratifying to see pictures at field level to have confidence that a brand is best represented.
---
What current industry issue in retail execution that keeps you up at night? 
The additional shelf space required to accommodate the growing consumer demand for avocado oil within the cooking oil category. Avocado oil is in a fight for space as consumer acceptance of it as an alternative to the old guard – vegetable and olive oils – is driving share growth within the category.
When growing from newer to true kitchen staple this often puts stress on the shelf with limited facings as the perception of shelf space needed is still being challenged at all levels. For example, think about milk; a few years ago almond, soy, oat, etc. were considered a niche product that only needed a few facings. Now we realize that they are kitchen staples that have to have a proper share of space to accommodate demand.
How can brands plan to solve that problem in 2021?
Conversations at all levels can fix many spacing issues, having good dialogue from store level to HQ can help get things right. Having good sales data conversations helps so much, it's even better when it happens at all levels of the account you're working with. This really helps to stay cohesive and get real-time feedback to stay on top of trends.